The overall goal of this project is to provide for the youth of Ulcinj an adequate space that offers more opportunities for passing beneficial time; to develop the culture of reading and the culture of dialog and to promote philanthropy in local communities.
The main activities of the project:
Training peer educators to promote youth activism; to promote the culture of giving (philanthropy)
The adjustment of the space in the Library of Ulcinj and putting into operation "Youth Corner"
Organizing the action of collecting community funds
Organization of creative and promotional events
The program of training youth educators will be attended by 20 youth activists. The program will include four workshops on the following topics:
My community and I
Successful communication
Activism and volunteerism
The planning and the writing of the project
The project is supported by The Citizen Action Fund – fAKT.
---
Photos from workshops:

Invalid Displayed Gallery
Press clipping:
KOHA JAVORE (announcement of the project)
NVO SEKTOR – RTCG (announcement of the project)
Televizija TEUTA (works in Youth Corner)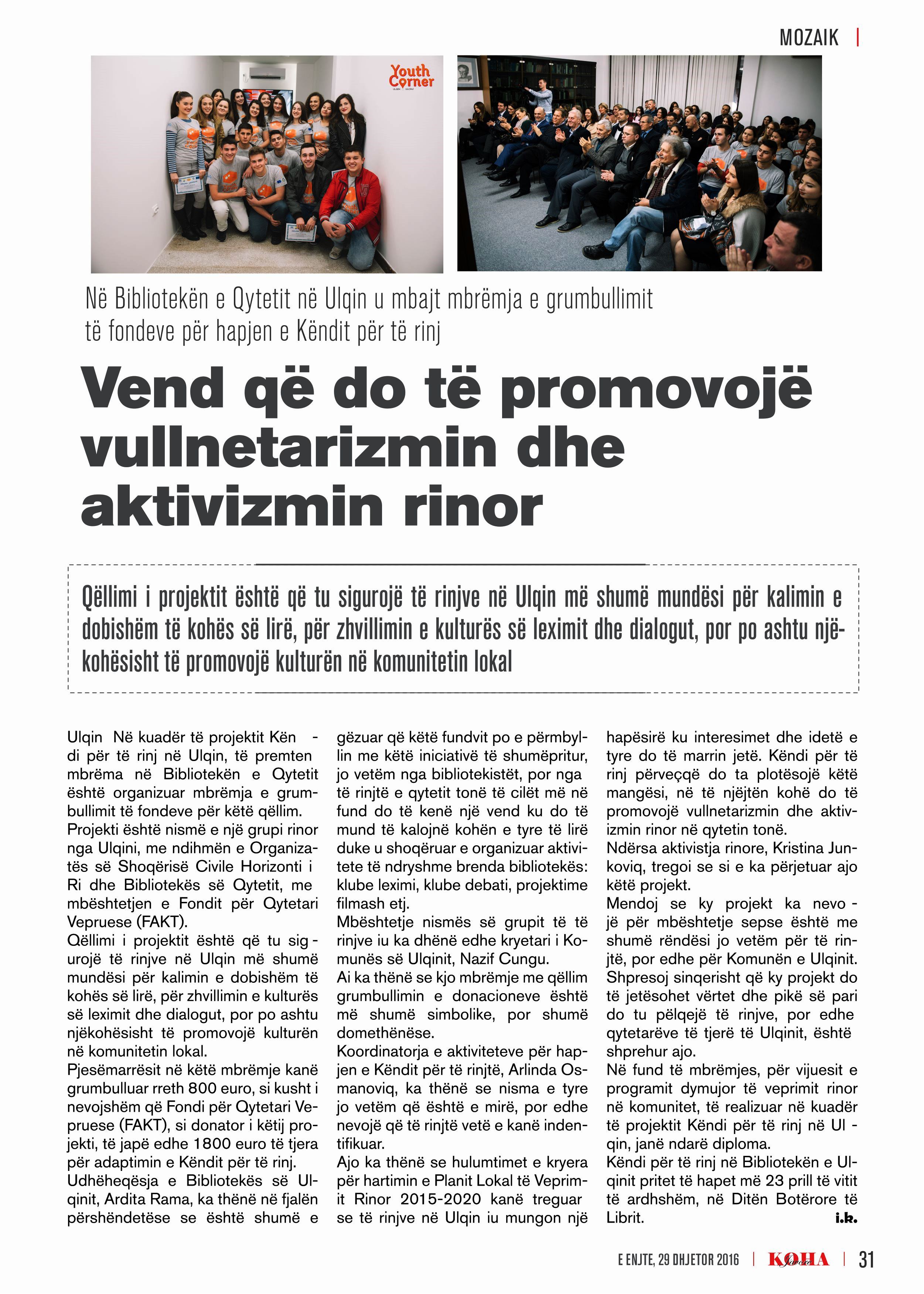 ---
PUBLIC EVENT- Fund raising action for Youth Corner
Donor evening – fund raising action for Youth Corner in Library of Ulcinj has managed its goal. Althoug the number of participants was not as high as expected , present citizens have contributed that this night becomes a success. Their support was much more meaningful to the youth of Ulcinj than the donated money. With their contribution, they have shown dedication and care for needments and problems of young people. Total is collected 805 € in cash.
During the fund raising campaign for Youth Corner, significant donations in goods were collected from the local business sector . The total worth of these donations amounts 1401 €.

Invalid Displayed Gallery